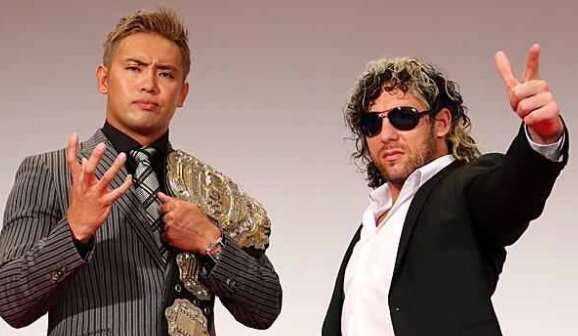 The match that many have called the greatest of all-time will get its second chapter. Kenny Omega will lockup with Kazuchika Okada for the IWGP Heavyweight Title at NJPW Dominion on June 11, at Osaka-Jo Hall.
The match was made on Wednesday at Wrestling Dontaku when Okada called Omega into the ring after defeating Bad Luck Fale. Omega entered the ring for a staredown, looked to the camera and said that Okada is not the champion that people want.
Okada defeated Omega in January at Wrestle Kingdom to retain the championship in a 45-minute classic, which earned an unprecedented six-star rating by famed journalist Dave Meltzer. Those who missed out on their first encounter will no doubt look forward to the sequel.
Both wrestlers have since blazed a trail of great matches. Omega had two match of the year candidates with Tomohiro Ishii while Okada successfully defended the title against Katsuyori Shibata and in a masterpiece against Minoru Suzuki.
When pro wrestling builds anticipation to a match, man, they do it right. Okada vs. Omega II is the biggest match in the business right now. The fact that it's coming off of what is arguably the GOAT makes it even bigger with diehard wrestling fans.
I assumed that New Japan would wait until their U.S. events in Long Beach, CA on July 1-2 to have the rematch. Kenny Omega is important to New Japan's western integration, however, both shows sold out shortly after tickets went on sale even with no official matches announced.
The question now is can the rematch live up to their prior affair? The pressure will be on Okada and Omega like never before to produce not just a great match, but something beyond. If they're successful, great but those expectations are too high to hold them to.
What is going to make or break Okada vs. Omega II is what kind of story the match is going to tell. We already know that they can work a highly competitive back and forth match. While the same story could be told in a different vein, perhaps a drastic change in the narrative is needed.
Okada sold for most of his match with Suzuki back in February. The pacing of the match along with the way he came back from the jaws of defeat was outstanding. Maybe they will tell a story along those lines. Perhaps, it will be something totally different.
Please, please, please. Whatever happens, don't gimmick the match with tons of Bullet Club interference just to get heat on Omega. He's too over for that approach to work and it will only dilute the match. In the end, regardless of the plan, Omega and Okada will the make most out of it.